City Museum Wesel -
Gallery in "centrum"
a walk through the exhibition area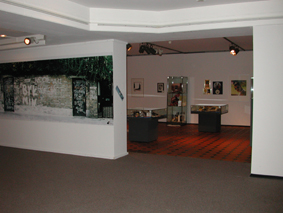 In Freddies Corner the visitor found everything about Freddie Mercury: his solo projects as singer, composer and musician got it's respect, just as his recordings together with Montserrat Caballè - the female opera singer from Spain, Mercury loved so much. You seen pictures from out the private photo album of Barbara Valentin and there been a showcase with a copy of the well known bronze statue that was originally built up in Montreux/Switzerland in memory of Freddie Mercury. At the beautiful "Lake Leman", Mercury did his very last composings and also his last recordings together with Deacon, May and Taylor.
QUEEN : If you walked down this floor , you saw the carrier of the band shown in a chronological picture story. Rare and strange photos completee portraits and concert shots of Deacon, May, Mercury and Taylor. And you also could read detailed biog.'s from each member.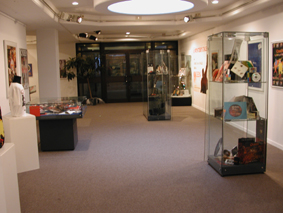 Milestones: The multi-media periods from musical history of QUEEN - the videos, film music, the concerts, the vinyl's and musical rarities from all peace's of the Earth, that were published only in that special country, were presented in the middle part of this area. Further subjects are: QUEEN and their awards, QUEEN and merchandising, QUEEN and their fans, hand written notes, signed covers and lots more.
All the exhibits were lent from QUEEN fans all over Europe, or maybe from official site. The organizer took care for all the objects during the five weeks exhibition and signed to an insurance. All the shown things are now given back intactly to the owners.
The ultimate gallery round with 80 photos. Click the picture to start!

KYA mainpage names, dates, facts walk through the gallery order catalogue eMail
© 2000/2001 by Birgit Paff