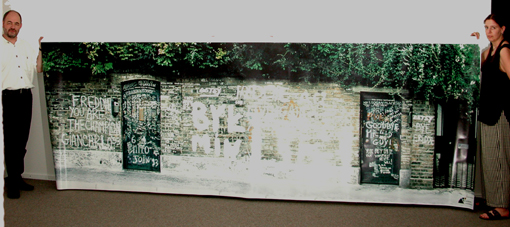 Ein Highlight der Ausstellung: Die "Garden Lodge"- Mauer in 4 Metern Breite!
One of the exhibits highlight: The wall of "Garden Lodge"
Welcher Fan kennt sie nicht, die Gartenmauer von Freddie Mercurys letztem Domizil in London: 1. Logan Place "Garden Lodge". Nach Mercurys Tod, am 24. November 1991 besuchten unzählige Fans diesen Ort, legten Blumen ab und hinterließen ihre Abschiedsgrüße auf der Mauer und den beiden Türen. Heute sind die Inschriften nicht mehr vorhanden, die Mauer wurde gereinigt und frisch gestrichen.
Every QUEEN fan in the world knows the last address of Freddie Mercury in London: 1. Logan Place, "Garden Lodge". When Mercury died on 24. November 1991, lots of fans visited this place, spent flowers and left their words of farewell on the outside of the gardens wall and doors. Today the inscriptions passed by, the wall was cleaned and painted again.
Kurt Neitzert aus Koblenz knipste Anfang der 90er die Mauer. Zwei kleine Fotos in der Größe 9x13 cm dienten Hartmuth Laaser von der Farbkreis Repro GmbH aus Bochum als Vorlage. Mit viel Geduld und Können reproduzierte der Bilddesigner (EBV) ein Bild, das die stattliche Originalgröße von 140 x 422 cm hat. So ist ein einzigartiges Monument entstanden, das - in dieser Art und Größe - weltweit nur ein einziges Mal existiert.
It was the German Kurt Neitzert, how shot some pictures of the wall in the early Nineties. Two small photos by a size of 9 x 13 cm had been the copy for Hartmuth Laaser. The German picture designer produced with patience and knowledge a great picture in a size of 140 x 422 cm. That was the birth of a unique monument, that is existing only once in the world.
Das Original war in den Ausstellungsräumen im Eingangsbereich zu "Freddie's Corner" zu sehen. Abzüge in mehreren kleineren Formaten können aber auch bei Farbkreis bestellt werden. Hier geht's zur Ansicht und Bestellung!
The original was seen during the exhibition in the entrance to "Freddie's Corner". Small copies can be ordered here! (only in German!)
KYA-Startseite Namen, Daten, Fakten Rundgang durch die Galerie Presse Katalog-Bestellung eMail
© 2000/2001 by Birgit Paff